Due to its versatility and sophistication, many DIY crafters prefer glass for their vinyl crafting projects. The possibilities are endless, whether it be mason jars, wine glasses, or windows. You can customize wine glasses with vinyl, gift them to family and friends, and level up your personalized gift-giving game.
Permanent adhesive vinyl is best for glass, car decals, and wood projects. For t-shirts, it's best to use heat-transfer vinyl. You can also use heat transfer vinyl for glass-related applications, but keep the heat at low mode. Wipe the glass surface with rubbing alcohol for better vinyl adherence.
By combining various designs and vinyl colors, you can create exceptional pieces. Let's look at the various types of vinyl available to decide which one will suit you. We'll also find out the correct way to prep your glass before vinyl crafting and what's the correct way to vinyl from glass.
Can Vinyl Be Used on Glass?
In addition to t-shirts, plastic and wood vinyl can be used on glass surfaces to give them a unique aesthetic twist—Mason jars, wine glasses, flower vases, car windows, spice jars, and glass windows. In fact, almost all types of glass surfaces can be vinyl crafted to give them a personalized touch.    
Which Type of Vinyl is Best for Glass?
Two types of vinyl can be used on glass surfaces. These include adhesive vinyl and iron-on vinyl. Both these types come with their benefits and drawbacks.
Permanent Vinyl
Permanent vinyl, as the name suggests, provides lasting results for your glass project. Therefore, it's best to use permanent vinyl when you apply a vinyl decal to your glass surface unless the decal is for a temporary purpose, like a party.   
Iron-On Vinyl
You can use a heat gun to apply iron-on vinyl or heat transfer vinyl to your glass. This type of vinyl is permanent, but working with iron-on vinyl requires a lot of skill and knowledge. You'll also have to practice caution when using heat transfer vinyl, as excessive heating can break the glass.
Regular Vinyl vs. Heat Transfer Vinyl
Let's look at both these types in detail to understand their differences better, as this will help you choose the one that's right for your project:
Adhesive Vinyl
Adhesive or regular vinyl is available in various colors and finishes. It comes with a paper backing and feels sticky to the touch once you remove the backing. On the other hand, heat transfer vinyl doesn't have a paper backing. 
Adhesive vinyl can further be divided into permanent outdoor vinyl and removable indoor vinyl.
Permanent Outdoor Vinyl
Typically designed with a glossy finish, permanent outdoor vinyl is ideal for mugs, car decals, outdoor signs, and any other item that can be put in the dishwasher. If needed, permanent vinyl can be removed; however, it can damage your glass if not done carefully.   
Removable Indoor Vinyl
This vinyl comes with a matte finish, which makes it perfect for stencils, indoor signs, wall decals, and anytime you need a temporary application.
Heat Transfer Vinyl
HTV has a clear plastic carrier sheet covering the top of the vinyl. The adhesive is found on the other side, which is neither tacky nor sticky to the touch. This is the vinyl side that you'll need to cut.
How Can You Apply Heat Transfer Vinyl to Glass?
Heat transfer vinyl is excellent for use on kitchen glass containers. It's also relatively easy to apply. Following are some tips that will help you apply HTV to glass without any hassle:
Choose low mode when applying heat to the glass.
Be careful when applying heat to the glass, as it might break.
Expose the vinyl to heat several times, so it easily adheres to the glass.
Before heating your glass product, remember to check its temperature recommendations.
Protect your hands from the chances of glass breakage and heat.
Use a mini iron or a heat gun for glass and other curved surfaces.
Does Vinyl Adhere to Painted Glass?
Vinyl can adhere to painted glass. However, to ensure its easy and complete adherence, it's vital to follow the guidelines below:
Use quality paints that are suitable for use on glass. For example, before applying a vinyl decal, you might need to bake your glass after painting it.
Prep your glass before painting by cleaning it with rubbing alcohol. Once your glass is clean, avoid touching it with your hands, as the oil your hands produce may prevent the vinyl decal from adhering properly to the glass.
Once you've finished painting your glass, allow it to dry completely. Be sure to give it ample curing time, at least 24 hours, before applying vinyl.
Be extra careful when positioning your vinyl decal on painted glass because once the vinyl adheres to your glass, removing it could damage the paint and break the glass.
How to Prep Your Glass Before Applying Vinyl
Prepping the glass before applying vinyl is essential as it ensures that vinyl will adhere successfully to your glass.
First, clean your glass thoroughly with a cotton ball soaked in rubbing alcohol. This will clean the glass surface of all the dust and grime. Then wash it with warm soapy water and set it aside to dry. 
In addition, some other considerations should be kept in mind:
Use transfer paper to move the vinyl decal from the backing onto the glass. Tape a piece of grid or graph paper inside the glass container to help with the alignment.
For wine glasses, the best trick is to fill them with water. How much water you use will depend on where you want to place your design. This water line acts as a straight line of reference.
Once you've finished with one glass, pour the water in it into the second glass. This will ensure that the designs on all your glasses are at the same level.
Use permanent adhesive vinyl for wine glasses. Vinyl decals for wine glasses typically have small designs; they need a strong adhesive.
Can Vinyl Be Removed?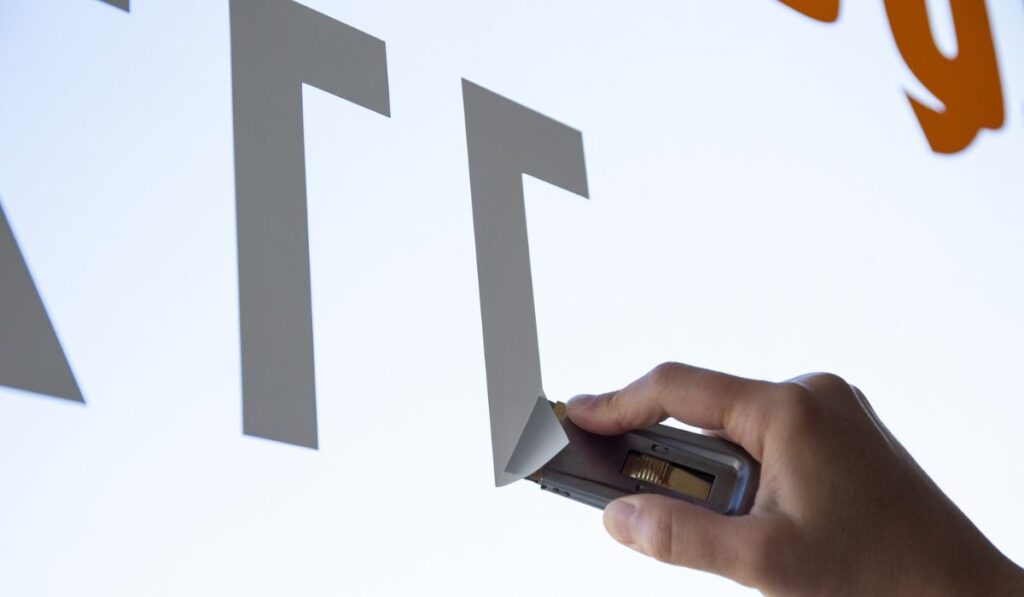 You can easily remove old permanent vinyl from your glass with the help of a razor blade and a heat gun or a hair dryer.
First, heat a small portion of the decal with a heat gun or a hair dryer. Then, operate your hair dryer at a low mode and run it over the decal for almost 30 seconds.
If you cannot peel off the decal, allow the glass to cool down a bit before heating the decal again. Then, repeat until the decal starts to peel off.
Once it starts peeling, you can use a razor blade.
It's good practice to start peeling the decal from the bottom right corner and lift it away slowly.