Maui Jim is best known for its 100% all-natural polarized sunglasses that feature premium-quality optics and numerous lens styles to choose from. But even though these sunglasses are made with superior craftsmanship, accidents can happen. So, how can you get your Maui Jim sunglasses repaired?
You can get Maui Jim sunglasses repaired by going to their website, filling out the repair form, and sending in the glasses. You can order nose pads or get the temples changed for free, but you'll have to pay for repairs to lenses or the frame if the damages don't fall under the 2-year warranty.
So, if you've managed to damage your sunglasses somehow, don't worry. Let's take a look at everything you need to know about getting them repaired, including what it'll cost and what the warranty covers.
What Are Maui Jim Sunglasses?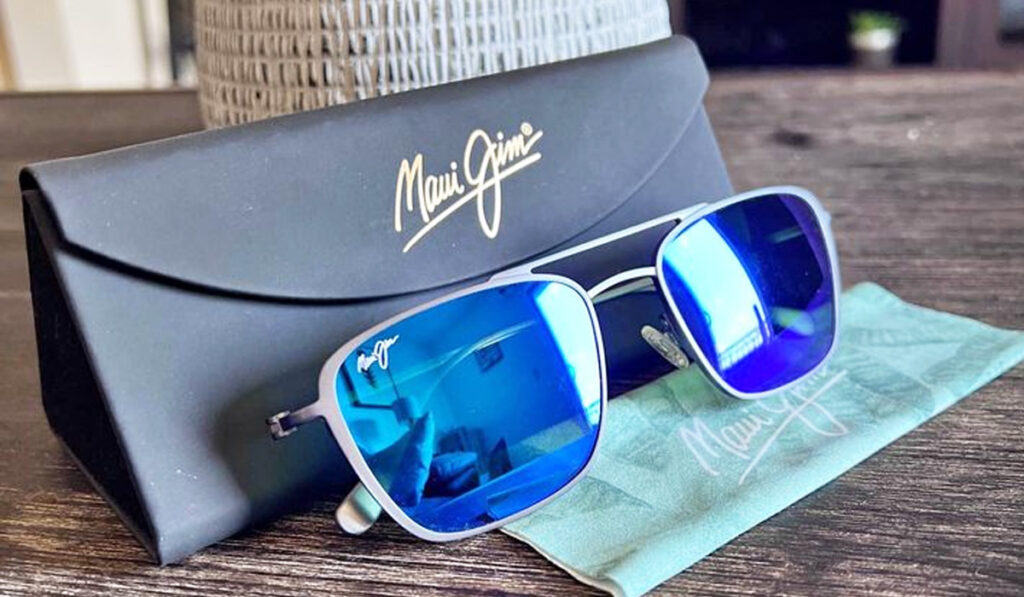 Maui Jim is an American sunglasses manufacturer that's one of the world's largest producers of sunglasses. What makes these glasses so special is the PolarizedPlus2 technology that lets you see colors clearer than ever, thanks to its multi-layer design. The lenses also feature rare earth elements that maximize color transmission and contrast.
The unique digital polarization formula of Maui Jim sunglasses boosts color in bright conditions, giving you more vibrant and crisper visuals. In addition, Maui Jim sunglasses are fitted with smudge-proof, scratch-proof, and impact-resistant lenses that promise excellent visual acuity. The company also offers four lens colors to cater to different sunlight conditions.
The PolarizedPlus2 technology promises excellent eyewear protection. It manages HEV (High Energy Visible Light) and eliminates harmful rays and glare. As a result, it helps you see clearly in extremely bright conditions and helps to mediate the effect that sunlight has on your eyes. Other sunglasses rarely offer this type of protection.
How Do You Repair Maui Jim Sunglasses?
If you've broken or scratched your Maui Jim sunglasses, there's no need to worry. The company's repair team can help you out.
To get started, first go to the company's repairs page and click on the "Start Repair" button there. Follow the prompts and fill in the requested information. Then, you'll get a printable PDF that you must include with the glasses when you send them to the company. You'll also get an email with all the necessary repair information.
With that out of the way, here's what you need to know about getting your sunglasses repaired:
You can get nose pads for most frames shipped to you free of cost in the same form.
In case of temple, lens, and frame damage, you'll have to ship your eyewear to the repair facility for evaluation and repair.
In the case of prescription eyewear, the repair might have to be processed via an authorized optical retailer. You can find more information about this on the repair form.
Repair options are only available for 100% authentic Maui Jim products, including lens and frame repairs.

All the repairs will be inspected for warranty coverage before any charges are processed. To speed things up, it's better to provide your payment information and purchase date when submitting the repair form.
What's the Average Repair Cost?
In addition to the standard $13 processing fee and the tax applicable for the area you live in, here's what the repair will cost you:
Non-prescription lenses cost $75.
Frames cost $40 to $95, depending on the style.
Temples can be changed free of cost, provided there's no frame damage (the tax won't be applicable in this case, but you'll still have to pay the processing fee).
In most cases, you can get the nose pads delivered directly without any cost. But in the case of some styles, you'll have to send the sunglasses to the repair facility.

You can confirm the pricing for your shades by getting in touch with the company's customer service department.
Is There a Warranty on Maui Jim Sunglasses?
Maui Jim sunglasses have a warranty of two years for the original purchaser from the date of purchase, which covers defects in workmanship and materials. In addition, the company will replace or repair your Maui Jim sunglasses if they're found defective or aren't damaged by unreasonable or improper use.
Temples and nose pads are free if the parts are available.