Tempered glass is a common choice for both commercial spaces and homes. The material is incredibly durable — but it also has some caveats to be aware of. One question many people ask is whether they can tint tempered glass.
It's possible to tint tempered glass. Glass tint can provide additional heat resistance, UV ray protection, and several other benefits. Some options include security films, decorative tints, and home tints. Keep in mind that tempered glass can't be adjusted after construction or it will shatter.
There's a lot to consider when using tempered glass for a project. Luckily, we'll cover everything you need to know about using glass tint on tempered glass.
Can You Tint Tempered Glass?
Yes, it's possible to add tint to tempered glass, and doing so is a straightforward process.
Tempered glass, often called safety glass, is heat-treated and engineered glass that's four to five times stronger than standard glass options. Tempered glass is compressed on the exterior and compacted in the center, causing it to shatter into tiny, round shards with a lower chance of injury.
Despite the construction, tempered glass can be tinted with various options to reflect heat and UV rays.
Best Tint for Tempered Glass
Glass tint provides additional heat resistance, UV ray protection, and several other benefits. Tempered glass has high heat resistance, making it an ideal choice for glass tints. There are various options to consider, including home tints and commercial tints.
Home Tints for Tempered Glass
Night Series Film: This glass tint provides a non-reflective coating that reduces glare, infrared rays, and UV exposure.
Neutral Film: This glass tint uses state-of-the-art techniques to provide increased daytime privacy and heat reduction.
Commercial Tints for Tempered Glass
Security Films: This window tint provides increased protection against burglars, vandalism, intense weather, and other emergencies.
Anti-Graffiti Films: These films are designed for windows and stainless-steel surfaces. The film provides increased protection against paint, markers, scratching, and basic damage. This material is ideal for commercial businesses.
Solar Films: This anti-UV window tint (on Amazon) can block up to 99% of UV rays, reduces glare, and decreases interior room temperature. The heat reduction can be useful for saving on cooling bills.
Non-Reflective Films: This is a clear film that increases privacy and protects against glare and harmful UV rays.

Reflective Films: This tint provides improved privacy. It also offers protection from harmful UV rays, infrared rays, and glare.

What Shouldn't You Do With Tempered Glass?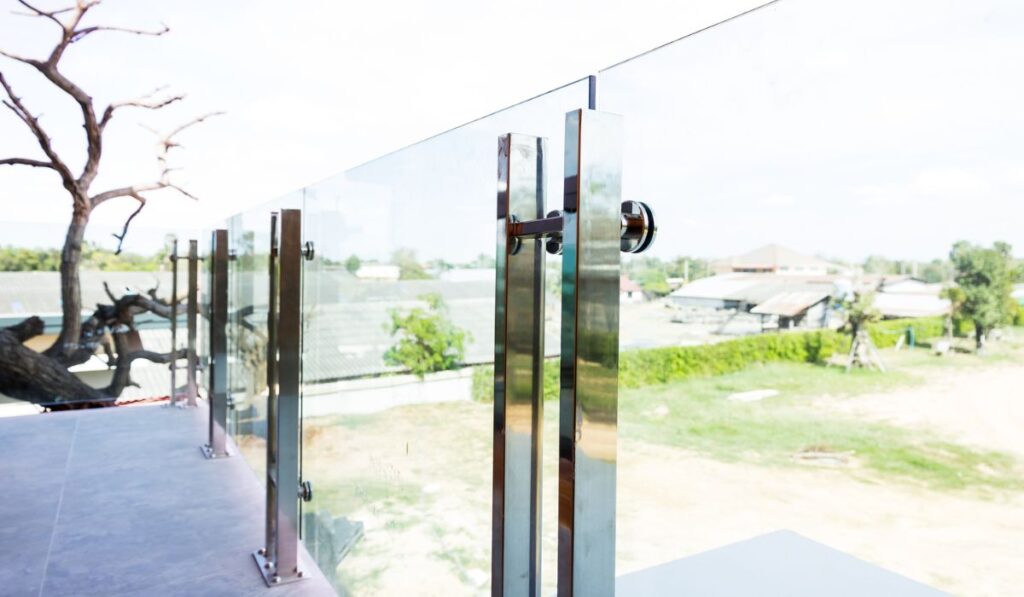 Tempered glass is one of the various glass options available and is typically used in commercial interiors, like museums, stores, offices, and restaurants. The material doesn't shatter into jagged, sharp pieces, and the surface film reduces the risk of breaks.
Unfortunately, tempered glass cannot be changed or modified after the construction process is complete.
For this reason, there are some significant considerations to be aware of when selecting or using tempered glass. Some of the main things to keep in mind with tempered glass include the following:
Don't make any adjustments to the surface of the tempered glass, or it might not fit into its designated space.
Be sure the finished surface is plastered and painted before placing the glass. Plastering and painting can't be completed afterward.
It's best to include a packing layer around the edges of tempered glass. The packing layer increases stability and provides ample room for contraction and expansion.
Be sure to utilize sealants on the edges to reduce water leakage or seepage in select locations.
Be careful around the glass after installation, as impacts can cause it to break if you aren't cautious.
Use a polarized lens to determine whether the glass is tempered or not. If it isn't, you can safely remove the glass and send it to a professional for tempering treatment.
Tempered glass is typically more expensive than traditional glass. It's best to determine the application and budget ahead of time.

The Final Word
So, is it possible to tint tempered glass? Yes! It's certainly possible to add tint to tempered glass thanks to its high heat resistance. There are several products to choose from, including options that protect against UV rays, paint, and break ins.