Enjoy a variety of different eyewear products with Blenders sunglasses brand. This brand offers stylish sunnies and ski goggles at affordable prices. Also, their products feature UVA and UVB protection, while some come with polarized lenses. Blenders products have received thousands of positive customer reviews; sizing is the only major issue.
Blenders sunglasses are fresh and vibrant eyewear that are popular among millennials. Other Blenders products include snow gear, blue light glasses, readers, and accessories. Blenders have two major selling points—uniqueness and affordability. Enjoy free shipping across the U.S.
Blenders eyewear enables you to protect your eyes in style, whether enjoying the slopes or playing volleyball at the beach. All these sunglasses feature polycarbonate composite that's lightweight and durable. So why are Blenders sunglasses popular? Here's everything you need to know about Blenders products.
What are Blenders Sunglasses?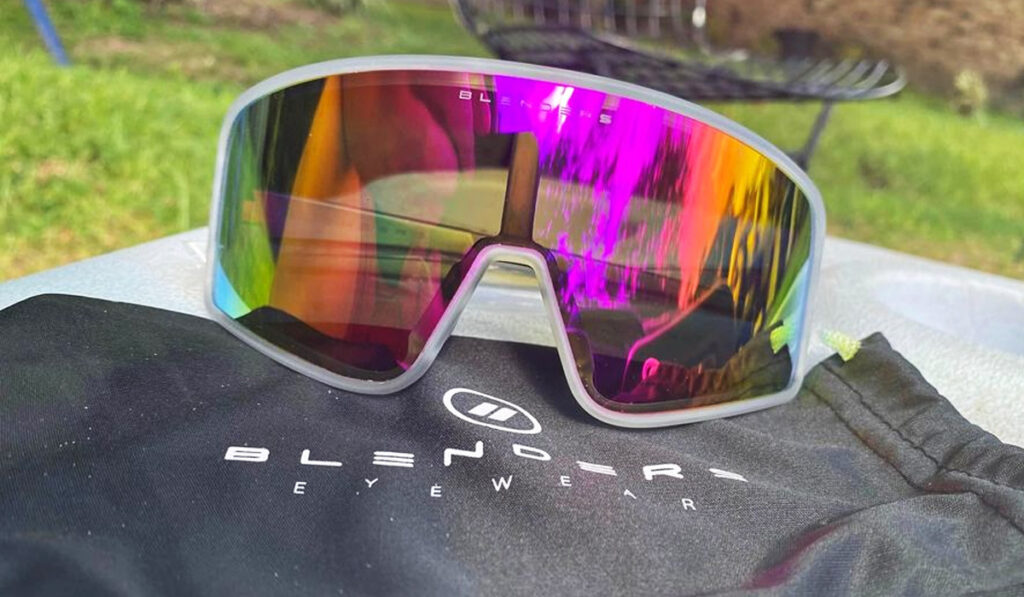 Blenders sunglasses are comfortable, fresh, and vibrant shades popular in social scenes. These sunglasses feature radical designs and are made tough to support your outdoor lifestyle.
All Blenders sunglasses come with 100% UV protection to protect your eyes. They are stylish, brightly colored sunglasses that are affordable and made to high standards.
Other Blenders products and services include:
Snow Gear
Blenders have a wide selection of styles and colors if you're in the market for snow lenses, goggles, and other accessories for use in cold weather and snow.
Their snow goggles come nonslip band and anti-scratch durability feature, enabling you to stay focused on the slopes. Many snowbirds say they're satisfied with the look and fit.
You can choose from individual categories, such as sunglasses, or buy a bundle of sunglasses, hats, and goggles.
Blue Light Glasses
Use blue light glasses to block blue light waves from electronic gadgets such as computers or phones. The blue light blockers have no power added or prescription, so they work for anyone looking to block blue light.
Enjoy blue light filters to lenses with Blenders eyewear.
Regular Glasses and Readers
You can buy readers that come in fun with powers ranging from +0.5 to +2.0. Enjoy a variety of styles and colors. When ordering regular Blenders glasses, you can add a color tint to the lenses for an extra fee.
Accessories
Blenders eyewear sells a variety of accessories to complement their glasses and snow goggles, including:
Winter hats
Glasses sleeves
Covid-19 face coverings
Cords for securing glasses
How are Blenders Different from Other Brands?
Blenders eyewear is one of the fastest-growing brands in the U.S. This brand specializes in vibrant eyewear with a bold aesthetic.
Blenders have two major selling points—quality and affordability. Made from tough materials, Blenders products are durable enough to withstand years of wear.
Here's a list of other points that make Blenders outstanding:
A wide range of colors and shapes are available.
One-stop shop for sunglasses, eyeglasses, snow goggles, and readers.
Free shipping and returns.
What are the Different Styles of Blenders Sunglasses?
Blenders sunglasses come in different styles. Here are five main styles:
Cardiff
Featuring a handmade metallic acetate, these polarized sunglasses have distinctive colors. They have a square shape at the top and are round at the bottom, so their frames are versatile and look great on just about every face shape. In addition, Cardiff comes in gold, black, and gold mamba colorways.
Hexagram
Compliment your face shape with Hexagram style. They feature stainless steel frames. Enjoy their simplicity, distinguished by a round shape near the top and a more squared bottom. In addition, hexagrams come with dark lenses that offer relief from the bright sun.
North Park
North park style looks like a classic aviator style. With a rubberized matte frame, these durable sunglasses are lightweight and comfortable.
Romeo
Made with 100 percent acetate, Romeo sunglasses are quality shades. Acetate is a durable plastic option commonly used by big-name brands like Oakley. Romeo has an orange stone breaker, teal, and green colorway.
Are Blenders Sunglasses Good Quality?
A quick look at Blenders Website reveals that the lenses and frames are made from polycarbonate, some unbreakable plastic.
With 100 percent UV400 protection, these sunglasses block certain bands of light. In addition, some Blenders come with polarized lenses to offer more protection.
Ski goggles from Blenders are made with lightweight thermoplastic polyurethane. These goggles also feature an air system and unidirectional ventilation, which offers comfort and helps shield against impact.
Blenders ski goggles also cycle airflow to control temperature and prevent fogging, safely fastening the lens in place. They feature a fleece, imitation polyester, and triple-layer hypoallergenic face foam for increased comfort. These features also help reduce face rash.
Here are the main things to consider when purchasing the right pair of sunglasses:
Bridge Width
It refers to the space between the lens. If the bridge is too large, your sunglasses will slip off easily, resulting in discomfort.
Temple Width
This refers to the length of the arms of the glasses. If the length isn't appropriate, they will stick past your ears. This will make your sunglasses look bad and also unstable on your face.
Lens Width
The shape of your face will determine this. Of course, everybody's face is different, but there are four basic shapes to make it easier to find the best sunglasses for you:
Round Faces: If you have a round face, consider buying square-frame sunglasses. Blenders recommend the following sunglasses: M class, Sci-Fi, and L series.
Oval Faces: Oval faces are complemented with round or square frames. Most Blenders sunglasses fit oval faces, and Blenders recommend Butterton, North Park, and Romeo.
Heart-Shaped Faced: Any frame style goes if you're a heart-shaped face, and Blenders have a wide pool of glasses for heart-shaped faces.
Square Faces: Rounded frames best compliment square faces. Blenders recommend the H series, North Park X2, and A series.
Where can You Buy Blenders Eyewear?
You can buy Blenders eyewear in-store at select locations across the U.S. and online. If you buy this product online, Blenders website encourages using their store locator tool to find out which store location is nearest to you.
When buying online, add nonprescription products to your shopping cart, and fill out billing and shipping info accordingly. However, you must upload a valid prescription at the checkout if you want to buy Rx glasses from the Blenders website.
If you don't have a valid prescription, the website will consider your order valid for up to 10 business days, after which the order will be canceled.
How to Order Blenders Products?
Once you decide on the Blenders product you want to buy, you can add the item to the cart and proceed to checkout.
You can choose additional options with many Blenders lenses and frames, including blue light filters and lighter-weight lenses. In addition, you can add cases, sleeves, or face masks that match your eyewear for sunglasses.
Finally, you can apply for credit or choose the total amount. Credit allows you to split the payment into four amounts if you're eligible.
Shipping and Returns
Enjoy free shipping across the U.S. for purchases of $40 or more. In addition, Blenders eyewear products come with a 1-year warranty, which the company will replace faulty products.
U.S Return
Enjoy free returns within 45 days. Ensure you don't remove the product tag. If the tag is removed, the return won't be accepted. The return process takes an average of two business days.
International Return
For International returns, here's what to do:
Pack the sunglasses inside the microfiber pouch before putting them into the plastic packaging. Use the shipping box they came in, and if you don't have it, pack them safely in another box. Keep the product safe during shipment. You won't receive a full refund if the product is damaged due to improper packing.
Write a note inside the box providing the order number, contact information, and a declaration stating, "I would like a refund."
Mail the package to Blenders HQ in San Diego
Once shipped, wait for 1-2 weeks for the return to be processed. Blenders will check for any damage, and if the product is satisfactory, you will receive a refund through the original payment method.
How Long Do Blenders Sunglasses Typically Last?
Blenders sunglasses feature durable polycarbonate. In either severe cold or hot weather, the polycarbonate ensures that your frame will not lose shape or deform. Their lenses are also made of polycarbonate to offer impact resistance.
Are Blenders Sunglasses Worth it?
Consider the Blenders brand if you're looking for high-quality but affordable sunglasses. The brand features an array of prescription eyewear, snow goggles, and sunglasses.
Enjoy timeless and unique designs to jazz up any dress code while keeping your eyes safe and healthy. With every design, blenders offer all the aspects of the product, so you know what you're buying.
Blenders also offer you an option to upgrade your lenses to add a polarized lens or boost their index.
Customize your eyewear by choosing the type of lens color. Additionally, the Blenders site has a quiz section that acts as a guide to helping people find the perfect fit for their glasses.
What is the Price Range of Blenders Sunglasses?
Unlike other luxurious brands, Blenders eyewear offers affordable prices for its range of eyewear.
Here's the price range of blenders sunglasses:
Nonprescription Sunglasses: Prices range from $38 to $68. You can find both polarized and non-polarized glasses in this price range.
Prescription Sunglasses: Both polarized and non-polarized prescription lenses range from $89 to $109. With special add-ons such as colored lenses, prices can go up to $150.
Prescription Eyeglasses: Cost $89, but add-ons can get prices up to $339.
Blue Light Readers: When you need to block blue light, prices can go up to $48.
Snow Goggles: You can get from $95 to $120. Get swappable lenses at $40.