Adding a glass shower door to your bathroom makes the room feel larger and allows more light to enter the shower. However, many homeowners hesitate to add shower glass because it can be quite difficult to keep it clean. Luckily, a Magic Eraser offers a simple and effective solution to remove unsightly soap scum and mineral buildup.
It's very easy to use a Magic Eraser on your shower glass. Simply wet your Magic Eraser, squeeze it out a few times, and with just a few swipes your glass will look as good as new. There are multiple variants of this cleaner, and almost all of them are safe to use on glass.
Let's take a closer look at how you can use a Magic Eraser to remove any unsightly stains or mineral buildup on your shower glass. We'll also look at some of the different Magic Erase options you can use.
Can You Use Magic Eraser to Clean Shower Glass?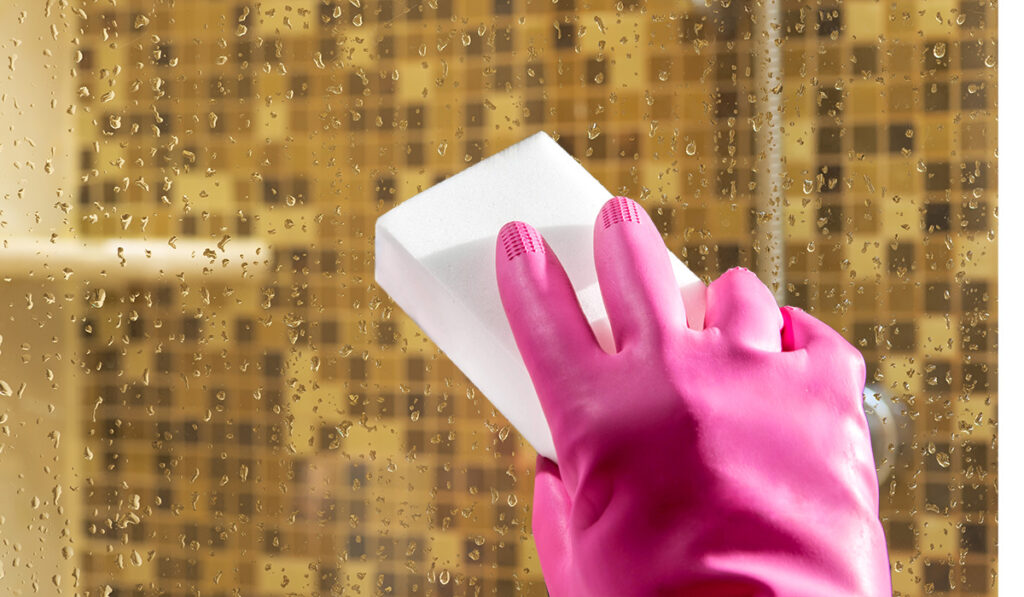 Magic Eraser is an excellent way to clean shower glass covered in hard water buildup and soap grime. 
In fact, you can use the Mr. Clean Magic Eraser with Gain Original Scent to clean not just the shower glass but door tracks as well. It's specially formulated for extra scrubbing power and contains a foaming cleanser that provides more cleaning power.
In addition, it's infused with the added scent of Febreze Meadows and Rain that'll make your whole bathroom smell like a fresh meadow.
How to Clean Shower Glass With a Magic Eraser
The Magic Eraser is an extraordinary cleaning tool. With very little effort, you can power through stains or scuffs all across the bathroom.
When it comes to shower glass, the Magic Eraser offers a legendary clean that's tough on stains but easy on you.
To clean your shower glass with the Magic Eraser, here's what you need to do:
1. Add Water to Your Magic Eraser
The first thing that you need to do is add water to your Magic Eraser. Water helps to stimulate the built-in micro-scrubbers that remove shower grime from even the toughest areas of your bathroom.
2. Give Your Magic Eraser a Gentle Squeeze
After getting your Magic Eraser wet, squeeze it three to four times. This'll help activate the foaming cleanser inside for a more powerful swipe. You'll also be able to smell a refreshing and pleasant scent.
3. Wipe Your Shower Glass With the Magic Eraser
Now use your activated Magic Eraser to clean the desired portion by swiping across the glass surface. With just a few swipes, the buildup will start to break down, and your glass will gradually become clean.
To clean the shower door tracks, use the edge of the Magic Eraser to reach into the grooves. This'll allow you to slide and glide the shower doors with ease.
Can the Magic Eraser Scratch Glass?
The Magic Eraser comes in multiple forms for the ease of users, and most varieties are safe to use on a glass surface. The water-activated micro-scrubbers help lift away soap scum and built-up grease without scratching glass.
The following is the list of various Magic Eraser products that are safe to use on glass:
Magic Eraser With Febreze Lavender Scent
This Magic Eraser is formulated to transform your bathroom from grimy and dingy to shiny and clean. The Magic Eraser with Febreze Lavender Scent (on Amazon) erases three times more soap scum and has a 0% chance of scratching your shower glass.
You can also clean the other surfaces in your bathroom with this versatile eraser.
Magic Eraser Extra Durable
This eraser contains micro-scrubbers that remove tough stains aggressively. The Magic Eraser Extra Durable (on Amazon) is four times stronger with Durafoam and can be used all around the house to clean walls, bathtubs, switches, and more.
Magic Eraser With Gain Original Scent
Excellent for the shower glass, this Magic Eraser with Gain Original Scent (on Amazon) contains Durafoam that allows it to fight tough hard water stains and erase three times more soap scum.
Magic Eraser Kitchen with Dawn
One of the best products to remove kitchen stains, this eraser comes with Dawn's grease-fighting power. The Magic Eraser Kitchen with Dawn (on Amazon) works exceptionally well on burnt crusts on ovens and glass stovetops, grease on ceramic cookware, and grime on appliances and countertops.
Magic Eraser Original
This Magic Eraser has proven to remove dirt from all around the house. The micro-scrubbers of the Magic Eraser Original (on Amazon) work great on soap scum, mineral buildup, and much more.