Sliding glass doors are undeniably a great addition to any home, offering clear views and easy access. However, finding the right coverings for them can be tricky, and heavy curtains or drapes are not the best fit. Here's what to know about using plantation shutters over sliding glass doors:
Plantation shutters add an elegant and practical element to sliding glass doors by combining durability with the easy-to-use style of shutters. They let you control the amount of light entering your room, offer good airflow, guarantee maximum privacy, and won't compromise your access.
If you've opted for plantation covers over sliding glass doors, you're looking for good coverage, but not at the expense of blocking things. So when installing them, ensure the door's mechanisms aren't obstructed. Then, let's get to the bottom of it.
Can You Put Plantation Shutters on Sliding Glass Doors?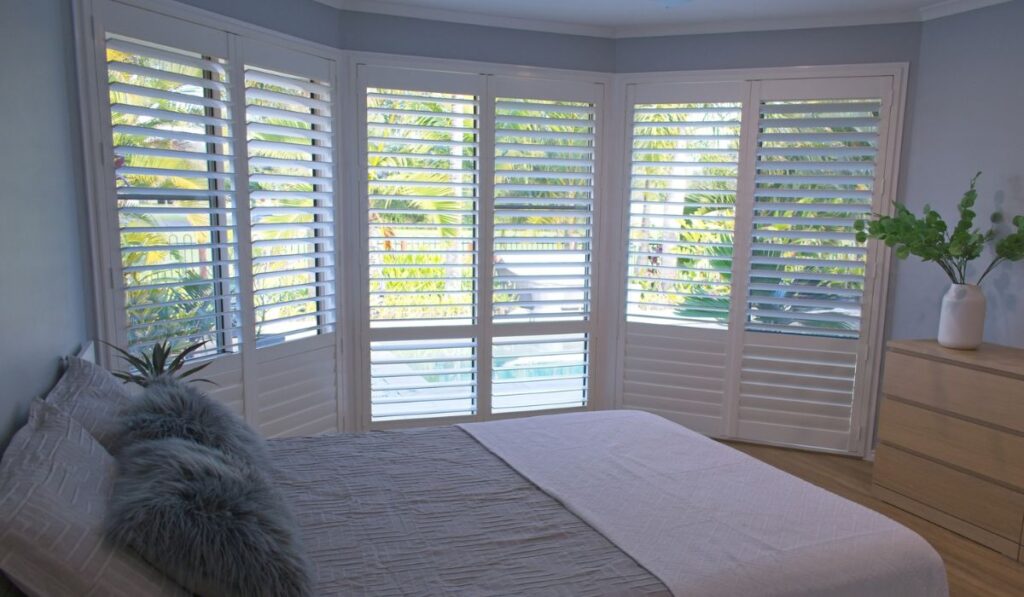 You can put plantation shutters on sliding glass doors to achieve the look you want in your room while allowing light control and privacy.
While plantation shutters are a pricier option than hanging curtains, they allow for more flexibility when it comes to light, as well as insulation. They can be installed in any room of your house with a sliding glass door without compromising your access.
What are Plantation Shutters?
Plantation shutters are solid window coverings with slatted blinds inside their frame. The frame usually consists of vertical stiles and horizontal rails, and you can drill it onto your window sill or door frame.
The slats (louvers) tilt easily from fully closed to fully open, and they can be angled anywhere in between for easy control of light and airflow into the room.
The shutters are often made of wood or plastic material, but others are also made of fabric.
Why are They Called Plantain Shutters?
You might be wondering why they're called "plantation shutters" in the first place. While they were originally used in Mediterranean countries, plantation shutters saw heavy use in the large farms or estates of the American South, where people grew coffee, sugarcane, tobacco, and cotton.
Since they were widely used as window coverings for the farmhouses in these plantations, they've retained the name "plantation" or "estate" shutters.
Today, they're an attractive and efficient treatment for large windows and sliding doors, and you can install them internally or externally.
The difference between regular shutters and plantation shutters is that the latter are unique when open. Therefore, they are a more elegant and practical solution for letting in a lot of air and natural light.
But when closed, they block the view completely to guarantee maximum privacy. Moreover, plantation shutters usually have wider louvers than the ones you'd expect on traditional shutters.
Why You May Want Plantation Shutters on Your Sliding Glass Doors
Plantation shutters will significantly improve the aesthetics of your home while complementing any window or sliding door covering style, whether modern or traditional.
While sliding glass doors offer convenience and space-saving benefits, they have drawbacks. For example, they can let in too much sunlight that causes glare on your TV or PC screens.
The quickest way to fix these issues is to cover your sliding glass doors with plantation shutters. Since they allow a remarkable degree of transparency, these shutters blend in well with sliding glass doors, giving them a classy, elegant appearance.
Here's why plantation shutters can be the perfect choice for your home:
Letting Natural Light In
Everyone wants sunlight to stream into their homes and be the primary light source during the day. With plantation shutters, you can control how much natural light enters your living spaces.
And if you go for bi-fold shutters, you can let in as much sunlight as possible.
Aesthetically Pleasing Look
Plantation shutters can grace your home with the perfect look and warm feel you'd typically enjoy when taking those vacations to some sunny destination. In addition, they're a great treatment for windows and sliding doors for years to come.
Simple to Operate
Most people love plantation shutters because they're easy to operate. With simple hand motions, you can open or close the louvers to the desired angles and direct glare away from your spaces.
You don't have to deal with cords that can complicate things when tangled or stuck. Moreover, these types of shutters can be personalized to fulfill the unique needs of any home.
They're often fitted with a tilt rod but can still be motorized and integrated with your smart home system.
Improved Insulation
One of the most significant benefits of plantation shutters is the insulation value they add to your home. They'll keep your home cooler during the summer and warmer during the winter.
They also provide an extra layer of protection against the sun's UV rays that threaten your skin and household furnishings.
How are Plantation Shutters Installed?
Before installing plantation shutters, the technician has to take accurate measurements of the sliding door and mounting surfaces.
If you choose to go the DIY way, you'll want to measure the height from the floor to the top of the door frame or jamb. You should also measure the interior door jamb width and the dimensions of the glass panes for the sliding door.
Once the measurements are taken, an easy-glide aluminum track is installed over the doors on the wall. You can then mount the plantation shutters on the track overhead.
The plantation shutters function smoothly because they have nylon wheels to serve as carriers without jamming or slipping. You can provide adequate wall space to roll them to both sides of the sliding glass door to allow airflow, natural light, and visibility.
How Much Do Plantation Shutters Cost?
The average cost of plantation shutters is $20 to $40 per square foot, depending on the size of your sliding glass doors or windows. It also goes with the material of the shutters. The installation cost can range from $1200 to $4200.
On average, expect to pay $100 to $130 for every pair of vinyl or PVC shutters and $150 to $180 per pair of faux wood shutters. Real wood shutters are on the upper price spectrum, going for as much as $300 a pair.
While budgeting for the shutters, it's crucial to account for the cost of the shutters themselves plus the labor costs. Shutter installation companies typically charge an average of $2700, including material and labor costs.
This goes with how many shutters you need, how labor-intensive the task is, and how long it takes to be done. So if you're installing plantation shutters in your home, the project may cost you as much as $4100.
You should look at multiple estimates to help determine the average price you expect to pay. Ultimately, it's also important to note that the demand for siding and other building materials has increased.
As a result, prices have shot by as much as 10%, meaning your plantation shutters could cost more than in previous years. Some parts of the country also experience delays in the delivery of materials, so allow extra time once you order the materials.